Following Montessori discipline, at your home helps you handle your kids.
Parents are occasionally summoned to discuss their child's aggressive behavior at different Montessori schools. Administrators may make parents feel embarrassed, guilty, or judged in an instant as we work to resolve discipline issues and instill childhood independence in their children.
Unfortunately, the school's concern is frequently denied or dismissed by parents.
Typically, the root of the problem is this: Montessori students do everything on their own in school, only to return home and be denied all of the choices, childhood independence, self-care, and freedom they've learned.
It is so frustrating for children that they may begin to act out in school to express their displeasure. For example, they may express their annoyance by refusing to listen, being defiant, or, in rare cases, being physically aggressive to other students. The Headmaster or Director must then contact the parents, who may be unaware of the problem.
Building a Better School to Home to School Bridge
The Montessori Method is a way of life that emphasizes interacting with children as adults while also educating them socially and academically. This philosophy emphasizes "allowing the child to do for himself or herself."
Children engage in different socially participatory and collaborative behaviors, and individualized, personalized academic learning, during the school day. Students are responsible for everything, from preparation to completion.
One goal is to allow children to succeed through failure. It is acceptable to make mistakes at Montessori school. That is the only way to be successful. Liquid spilled? Okay, let's learn how to clean it up and avoid spilling it again. Is there a wrong answer? Okay, let's go over the concepts again to help you figure out which one is correct.
But here's the catch.
When children return home, many households put a stop to this behavior.
The entire evening is spent saying "no, no, no." No, you cannot assist in the preparation of a meal because you will cut yourself. No, you are not permitted to set the table because you will break something. You cannot choose your clothes. No, you won't be able to get your cereal because I've already made oatmeal. Or, if we're running late for school, I'll tie your shoelaces and buckle you up.
As a result, defiant children emerge.
Why?
There are two types of teaching: one at school and one at home.
As a result, children who want to participate—to be a valued member of their family who feels needed—are not permitted to do so by their parents.
Montessori discipline at your home:
Montessori isn't just for schools. You can easily incorporate its principles into your home, which can be a valuable bridge to reinforcing what your child learns at school.
Here are some ideas for making that connection.
#1 The prepared environment
The Montessori approach is based on encouraging order, independence, and self-motivation. Carefully designed classrooms enable students to develop competence in caring for themselves and their surroundings at school. You can do the same for your home.
-Getting Organized
Having a place for everything on a child-friendly scale means that children know where to look for what they need and where to put their belongings when they're finished. A well-organized environment also has fewer distractions, allowing children to concentrate on the task at hand.
#2 Simplifying your home environment
Simplifying your home environment helps your child understand what is expected of them. Even toddlers can return items to their proper places with your help, encouragement, and gentle reminders.
Limiting toy options and providing open shelves (rather than toy boxes with toys heaped in a pile) at your child's eye level, for example, allows them to see all of their options and return objects to their proper places. Sorting smaller items, such as puzzles, art supplies, and blocks, into trays or baskets by category makes them more accessible and allows your child to put them away.
Keeping extra toys in storage to be swapped out when you notice your child becoming tired or bored with the items currently available will keep them interested in playing with new and familiar favorites, and ensure a neat space that is highly valued and cared for.
-Bedroom
Bedrooms for children of all ages should be clutter-free, with clearly marked areas for rest, self-care, and dressing.
Furniture for children should be child-sized and easily accessible to foster independence and self-esteem. A closet with low-hanging clothes and limited options, for example, will allow your child to make his own clothing choices for the day and put away clothes independently, laying the groundwork for future tidiness and organization.
Bedroom space for older children, including "tweens" and teens, should provide a place to sleep, play, and work, as well as allow your child to feel ownership of her own space. Allowing your child to choose her artwork and paint color, for example, can help her feel proud of caring for her domain.
To reinforce the value of organization and environmental care; all bedroom areas should provide opportunities for clutter control, and your child should be fully responsible for maintaining tidiness in her own space. When your child is older and responsible for doing independent reading or homework at home, her workspace should be clutter- and distraction-free for her to focus.
-Kitchen
Welcoming young children into the kitchen is one of the easiest ways to support your child's growing independence at home.
You can place groceries on low, easy-to-reach shelves, so your child can make choices and be responsible for replacing items in their right places. A stool placed near the countertop will invite help with washing dishes or food preparation.
If there's enough space in your kitchen, consider a table and chairs that are child-sized, so that your young one can take part in meal preparation, sit comfortably for snacks, and clean up easily.
Consider using quality silverware, dishware, and other kitchen utensils that are appropriately sized for your child, rather than plastic "toy" kitchen items, to teach her proper mealtime and food preparation techniques.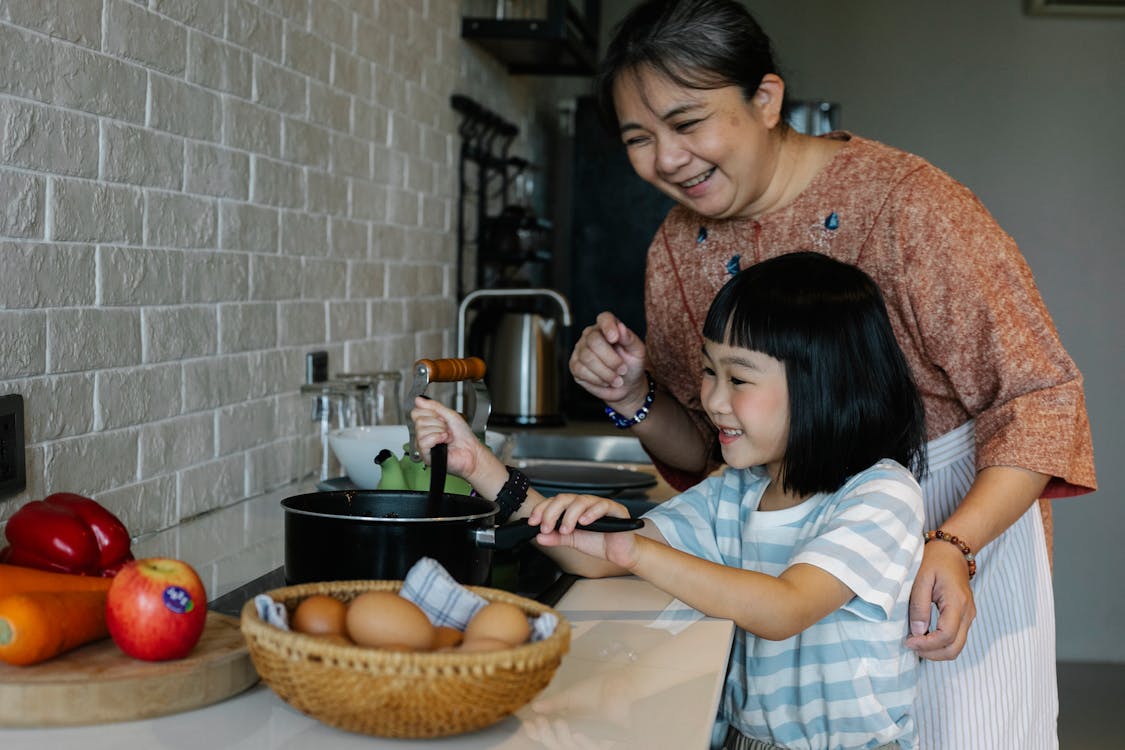 Using a child-sized pitcher and small drinking glass, for example, teaches your child to pour water when she is thirsty, teaches them to use real dishes with care, and supports them growing autonomy in taking care of her own needs. As children grow older, their home environment should evolve to support their independence in accessing and caring for the space.
The key is to make including children in your family's day-to-day activities at home an expectation from the start, whether they are toddlers or teenagers.
In a nutshell:
Teachers in Montessori schools work with first-time, overwhelmed parents whose parents or cultural traditions may not be compatible with the Montessori Method. As a result, they are oblivious to the issues that we educators have dealt with dozens of times over the years.
The main solution is to; engage your child as a member of the family unit. Make them feel needed, wanted, and valued by encouraging them to try things on their own. It will undoubtedly aid in dealing with discipline issues.